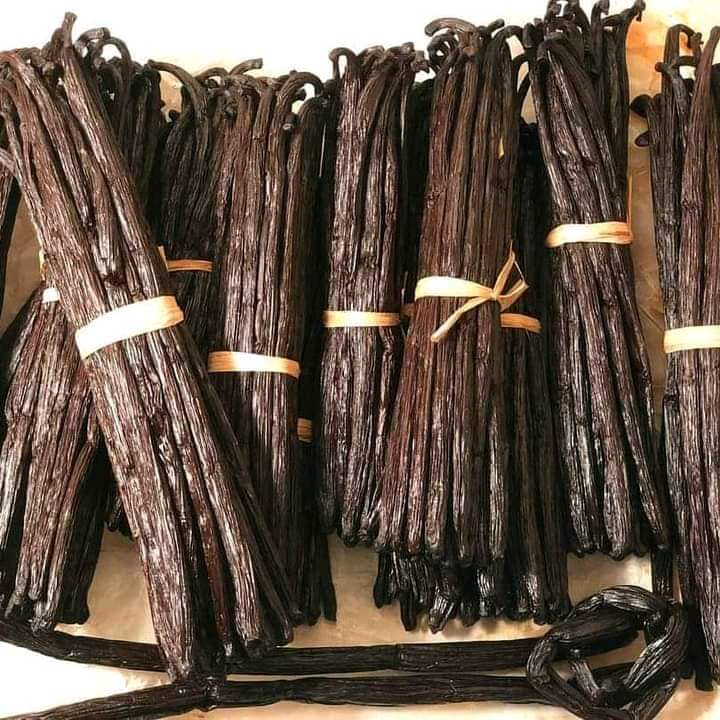 Grade A Vanilla Beans From Uganda
How To Buy Vanilla Beans From Uganda For Export

In this guide we are going to talk about how to buy Vanilla beans from Uganda for export. Many clients both global and local find it difficult to buy vanilla originating from Uganda and to ascertain a genuine seller and a scam. In this guide we shall talk about some of ways which can give you more knowledge on how to buy vanilla beans from Uganda. We have received a number of complaints of people being scammed something that is damaging to the vanilla industry in Uganda.

Uganda produces some of the absolute best vanilla beans in the world. The vanilla beans are high in vanillin content, favored by many manufactures for making vanilla extract and have a rich flavor profile that stands up well in baking applications. The climatic, cultural, and curing conditions come together into some endemic and unique cocktail of factors that forge the optimal vanilla flavor.
Vanilla beans that are produced in Uganda are much rarer than the first three types only similar to those of Madagascar and have an incredible flavor profile and aroma. The aroma is earthy with hints of milk chocolate, while the flavor is bold because of the high levels of vanillin.
The Uganda vanilla beans are similar in flavor to the creamy Madagascar beans, but are sweeter with a hint of milk chocolate which compliments dishes that also include chocolate. They are perfect for making incredibly rich desserts including ice cream, cookies and drinks.

How do you purchase Vanilla from Uganda?
There are 2 ways to purchase – you may directly purchase and have vanilla shipped from Uganda to your residential or business address, in wax paper cartons or vacuum pack (when and where legal.) Or, you can buy online extremely fast and cheap to have it automatically shipped to you, from our warehouse here in Uganda with tracking and arriving in 2-4 business days depending on where you are located.

Custom orders can be configured for any client or craft brewery or bakery, whether you're a multi-national company or having a cupcake party, but all vanilla beans come from physical vanilla stocks in the Uganda or these local offices and warehouses.

Prices are dynamic in the vanilla industry, but the percentage margins for distributors and clients are always healthy and generous, and we can unlock them for you to keep your permanent profitable supply lines or just give you more direct control, or stable super quality year-round for your own personal use!

Fraud or Scams in the Uganda Vanilla indus

try

Fraud or domestic scams in Uganda vanilla usually try to collect payment with papers, showing complicated lingo to elicit a deposit without fulfilling or sending any beans. Scammers or shady traders or flippant brands can bait with low or fake prices, alien or adulterated qualities, or occasionally false origins (Indian or Indonesian beans in place of Uganda.) Domestically however, vanilla fraud often tries to undervalue outgoing invoices and selling immature beans at the market.

If you come to Uganda to inspect your beans before you buy, whether with us or any registered licensed exporter, the customs authority is obliged to fulfill its lawful duty and peg a bank transfer to an export and phyto-certificate as well. In other words, to legally export Uganda vanilla, it must be licensed by the Ministry of Agriculture, Animal Industry and Fisheries (MAAIF) and enabled through tax payment tracking a combination of pegged value, pegged quantity, and fixed price inputs.

Vanilla Bean Sellers in Uganda

Buy Uganda vanilla beans in several yearly vanilla orders and payment installations, or buy mass orders of vanilla all at once in bulk. The largest buying periods for vanilla tend to be from March to June, and again from October to early January. The reason for this glut of orders biannually is due to the start and end of the cyclical vanilla export season in Uganda. That said, vanilla stock once declared in Uganda, and once stationed in warehouses abroad, is sold year-round and the market is active constantly.

Are Uganda Vanilla beans organic – Yes. Certified organic – Yes.
There are not a lot of certified organic Uganda vanilla suppliers and we have to admit that it is crucial factor in the crop husbandry, and that the industry as a whole is generally organic.  While the genuineness of MAAIF about the organic food production and blustering holds, and the certifications are mandatory for food labeling as such to the end user, the vanilla industry on the Uganda practices organic agriculture.


Being likely the most labor intensive and thoroughly organic practices of any foodstuff on earth, all Uganda vanilla is grown using organic practices generally, and certification does give surety and security, however it is effectively ornamental in practice. Uganda vanilla growers do not and cannot use pesticides or chemicals, the vanilla Planifolia species and its flavor being extremely easy to die and distort with the slightest hint of this.

Certification process by the Ministry of Agriculture, Animal Industry and Fisheries (MAAIF)

The Ministry of Agriculture, Animal Industry and Fisheries through its agencies like the Uganda Export Promotion Board. All agricultural exporting companies must be inspected and licensed by the Ministry of Agriculture, Animal Industry and Fisheries.  Phyto-sanitary inspection and quarantine services is responsible for packing house audit inspection, evaluation of systems for compliance for fruits and vegetables to national and export market plant health and hygiene standards.
With these measures in place, our vanilla has to be fully organic and natural at all levels before exportation to the global market. A phyto-sanitary certificate (issued and stamped by the Ministry of Agriculture, Animal Industry and Fisheries through plant health inspections) is mandatory to all Vanilla exporting companies in Uganda. It encompasses the details of the exporter, commodities to be exported and the consignee.

Vanilla Growing Season, Vanilla Curing Season, Vanilla Exporting Season In Uganda

When you're buying organic Uganda vanilla beans, or in fact and practice if you want to buy virtually any vanilla beans, the prices and flavor and fine bean export frenzies generally come to a head around October-December, at least on volume. This is NOT when world market prices are set, as that is a fluid and dynamic force that nobody controls, no cartel, nowhere…however it is when demand is best gauged as well as when most large end-of-year stock orders are placed by everybody, everywhere, for holidays, taxes, growing cycles, and general worldwide food and beverage and perfume businesses.

Who actually buys vanilla from Uganda in bulk?
According to the Agriculture, Animal Industry and Fisheries, the major importing countries for Ugandan vanilla included USA, France, United Kingdom, Germany, Japan, Canada, Denmark, Netherlands, Israel, South Africa, Turkey and Hungary. In 2018, Uganda produced about 300,000Kg of Vanilla and exported 23,000Kg of cured vanilla worth USD 6.40 million.
So, if you are in any of these countries above, rest assured we can supply you with the  quantity  of vanilla beans you want direct from Uganda's finest vanilla growers.