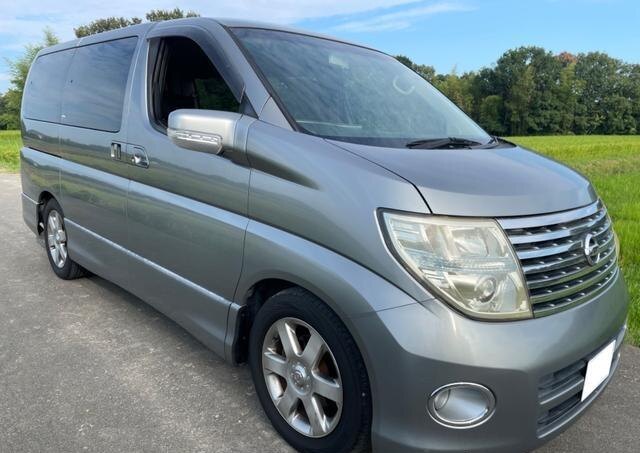 Buying A 2004 Nissan ELGRAND In Uganda
The Nissan Elgrand  is a minivan manufactured by Nissan Shatai for Nissan since 1997, available in three generations, with model codes E50 (1997–2002), E51 (2002–2010), and E52 (2010–present). The E50 Elgrand was also configured and produced as a light commercial vehicle from 1998 to 2017.
An overview about the Nissan Elgrand

The luxury multi-purpose vehicle class (MPV) offers two excellent choices including the Nissan Elgrand and the Toyota Alphard. The MPV is a step up from the traditional minivan that made its debut in the 1990's. Loved by mothers, the minivan achieved an early reputation as a slow, soccer mom transport.
In the 1990's the image was reinvented in order to better profile the versatility of the vehicle. With the added luxury features, MPVs began rivaling traditional limousines due to the added headroom and capacity for both passengers and cargo. As a result, MPVs were sought after by elite drivers. The addition of 4wd and more powerful drive trains only improved the image. The luxury MPV craze was begun with the introduction of the Nissan Elgrand in 1997.

What do you consider before buying a foreign used Nissan Elgrand in Uganda?

There are factors you need to consider before you get your money out of your pocket and pay for your vehicle. Many people find themselves buying cars that later become a problem for them after words. So to avoid disappointments and bad surprises from your new vehicle, there are a few important factors you need to consider before you buy.

Affordability
It is a great step you are taking when you decide to purchase a car. It nice to want the finer things in life, however, you have to select a car that is budget friendly. That nice red Range Rover you like may not be what you can afford. There may be similar cars that you can purchase that are budget friendly. Most people cannot buy a car in cash and the best option is to borrow a loan. You should work out a budget and plan. How much of your earnings will you allocate towards car payment?

Vehicle Insurance
It is mandatory to have your vehicle insured in most countries with Uganda inclusive. Insurance will financial support you if your vehicle is damaged or anyone is hurt in an accident. Some insurance will provide coverage if your vehicle is stolen or lost. You will need to find the right company to open an insurance policy with. You can pay the insurance in installments.  It all depends on your budget.

Year of manufacture
You are probably wondering why you need to be concern about what year the car you are interested was made? Well, it is important to know what year the vehicle was made because some financial institution will use the year of the vehicle to determine how much money to lend to their client. The older the car the less expensive it is. Sometimes people buy a used car because they are cheap but they have a shorter time span compared to a zero mileage car. If you are looking for something long lasting an old used car may not be ideal.

Do you want a new or pre-owned car?
This is also a consideration that will depend on your budget. A new car will be more costly than a used car. For most people, a used car is what they can afford. If you are considering a pre-owned car then make sure that it is in an excellent condition. Make sure you get an expert to review the car and check if it is road worthy. You can also see if there is warrant available for you to benefit from. Make sure to ask the owner about the history of the car. Where did they drive it and how long? Has the car suffered any damages?

Test drive
If you go the store to buy a shirt you would fit it and see if it is comfortable. You want to make sure it is not too tight or short. When buying a car you need to test drive it. Do not just look at the interior and exterior then select the car you want. No, do test drives. See if you feel comfortable when you drive it. Is it too fast or slow? Do you have enough leg room? Is the seat high enough? Make sure you are comfortable.

Fuel Efficiency
Will the car you purchase travel long distances with very little fuel? If yes this can be advantageous to you. Fuel efficiency cars will help you to save on gas despite the size and your everyday driving needs.

Research
Researching your car dealership is very important especially if it is your first time doing business with them. Make sure you look at more than one car dealership and do a comparison. Ask questions and address any concerns before signing any contract or agreement. If there is a model you would like, please research about it thoroughly before making your final purchase.

Automatic or Manual
If you are a car enthusiast then this is a very important decision you will have to make before you purchase a car. The manual is ideal for car enthusiast because you enjoy the ride, roaring engine and shifting the gear. This type of transmission used more fuel in comparison to the automatic. The automatic is suitable for rush hour traffic so if you know that you live an area where there is congestion often, it is advised to use an automatic car. You will avoid shifting gears often for several hours unlike with the manual which will also tire you down.

Is Nissan Elgrand reliable for you while in Uganda?

The Nissan Elgrand is reliable MVP. Spare parts are readily available and it's easy to maintain. Technical and mechanical skills are also readily available which makes it easy to maintain in Uganda.

What is the fuel consumption of a Nissan Elgrand?

The Nissan is a rear wheel drive vehicle with an available four wheel drive options. The 2.5L V6 model CBA-ME51 is rated at 187 HP while the larger 3.5L model UA-E51 comes in at 240 HP. Each of the engine offerings is larger than the Toyota version in terms of displacement and horsepower. The added boost helps propel the Nissan better as it weighs about 15% more at 2 kg when compared to the likes of 1.7 kg Toyota Alphard.

What is the cost of the Nissan Elgrand in Uganda?

Nissan Elgrand can go for around thirty seven million Uganda shillings depending on where you buy it from. Remember prices keep changing. So you may need to get in touch with the dealership to confirm the price of the Elgrand you want.

Nissan Elgrand competitors you can buy in Uganda

The Nissan Elgrand's main competitors are the Toyota Alphard and the Honda Odyssey. The Nissan Elgrand is sold as a larger, more luxurious alternative to the Lafesta.

Nissan Elgrand complaints or problems while in Uganda

The Nissan Elgrand is very luxurious but that also comes with some complaints. It has been to be quite expensive to maintain as compared to its sisters in the same class like the Toyota Alphard. The resale value is also generally low as compared to its counterparts in the same class from Toyota.

Our Conclusion

The MPV class of vehicles combines luxury with passenger and cargo capacity. No longer relegated to economy status, these vehicles enable stylish and comfortable travel. In addition to luxury transportation, the vehicles are popular for family traveling on long journeys here in Uganda. The Nissan Elgrand is of a typical Japanese quality and therefore offers long term reliability.
The advanced engineering combined with rugged construction result in vehicles that hold their value for a decade and well over 200,000 km. The edge for luxury, power, and performance goes to the Nissan Elgrand. For economy and a more basic offering, the Toyota Alphard scores very well in this area. Either vehicle is a beneficial addition to your transportation needs.