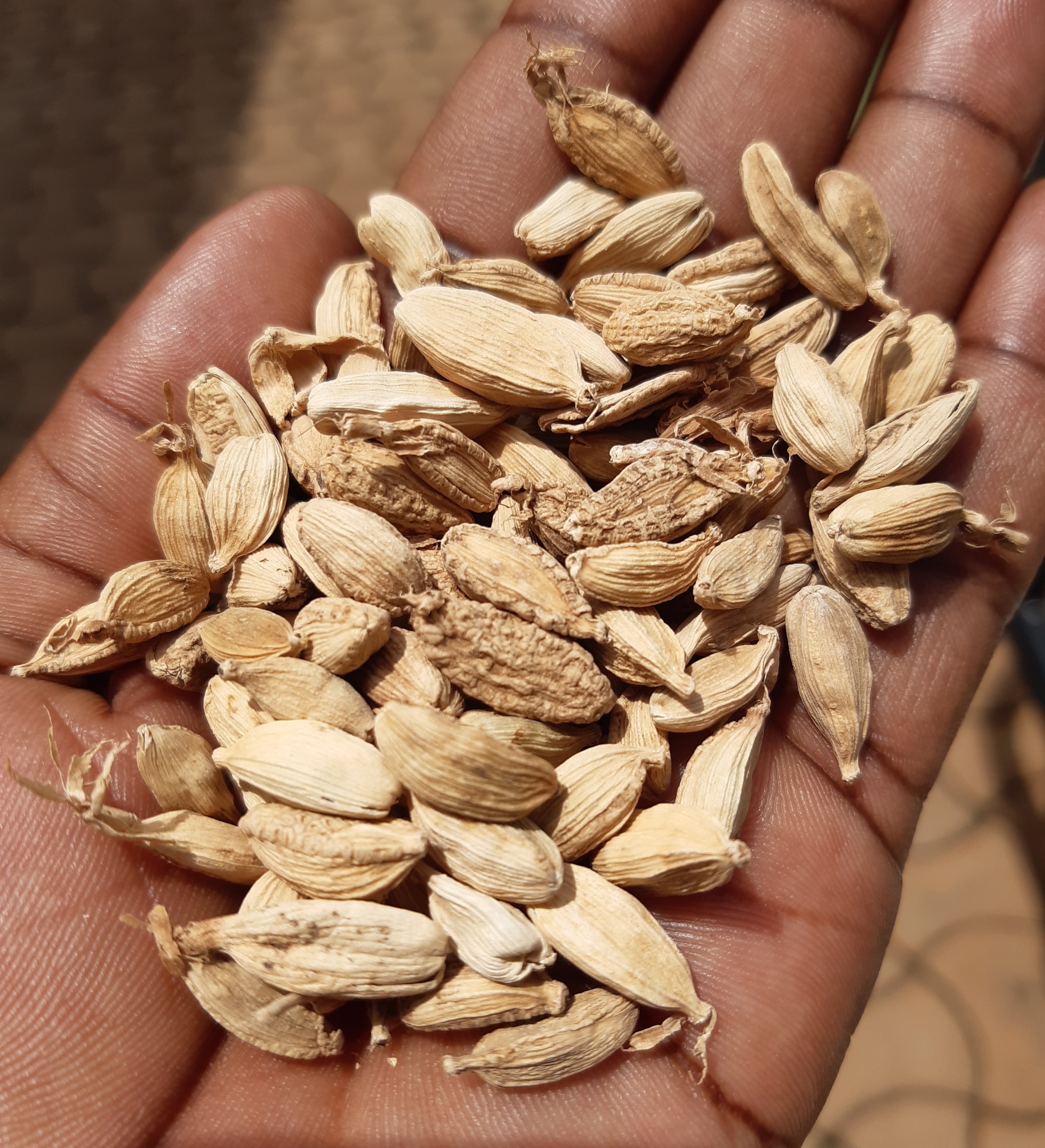 Dried Cardamon Spices From Uganda
Spices In Uganda
Uganda is a country gifted by nature. Uganda is also endowed with very good climate and soils. Most of the crops can easily sprout at any given location. When you get to spices, you will surely get most of them here in Uganda. The spices you can't find easily else where in the world can be grown here in Uganda. The most common spices include Black pepper, Cinnamon, Lemon grass, Rosemary, Lemon balm, Ginger and Stevia.

Other spices you can buy or find in Uganda include Lemon eucalyptus, Spearmint, Lemon verbena, Pepper Mint, Cool mint, Melissa, Holy basil, Basil, Green tea, Chocolate mint, Vanilla both cured and green, Cardamon and Coffee.

Spice oil extracts
You can also get oil extracts from the various spices in Uganda. Given the good climate and good soils found here in Uganda, be sure to get the best quality of spices grown in Uganda and their extracts like oil. For example Uganda is considered to have the best quality Vanilla in the world and the only Vanilla growing country to have two harvests in a year due to its unique good climate. Coffee is also another crop you can get in Uganda with one of the best rich coffee taste and aroma!
Spice oil extracts you can buy or get from Uganda include Vanilla oil extract, Rosemary oil extract, Lemon eucalyptus oil extract, Stevia oil extract, Lemon grass oil extract, Lemon Verbena oil extract, Green tea oil extract, Cinnamon oil extract, Chocolate mint oil extract, Spira mint oil extract, Cool mint oil extract, Basil oil extract, Melissa oil extract, Black Castor oil extract, cardamon oil extract among others.
Click here to inquire, buy or order for Spice oil extracts from Uganda
So, if you are looking for spices to grow or buy for your industry or home use you can surely get them in Uganda. On the other hand, you can also get oil extracts from these spices in Uganda. Should you need assistance in acquiring or buying spice suckers, spices and spice oil extracts from Uganda, please don't hesitate to contact us.
Flavors from plants in Uganda
You can also find plants that give you flavor extracts. By this I mean you can extract flavors from a number of plants found in Uganda. Some of these plants you can find in Uganda include Lavender, Sage, Corn mint, Artemisia, Oregano, Pine, Black pepper, Jasmine, Geranium, Tea tree, Cedar, Neem tree, Citronella among others.
All these spices and plants produce good flavors and oil extracts and  if you wish to buy or grow them, then you can surely get the seeds or suckers while in Uganda. 
Click here to inquire, buy or order for Spices from Uganda